https://games.yahoo.net/games/jewel-quest-trio/reviews
jewel-quest-trio
https://www.iwin.com/
6901160162249323972
Jewel Quest Trio
https://static.iwincdn.com/images/product/6901160162249323972
All Access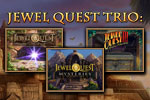 Together for the first time, a medley of iWin's best original "gems" to whet every appetite!

In Jewel Quest: The Sleepless Star, you'll follow the travails of intrepid explorer, Percy Pack in the match-3 quest for the game's namesake.
In Jewel Quest Mysteries: The Seventh Gate, Emma's search for her husband and daughter is a hidden object masterpiece of intrigue.
In Jewel Quest Solitaire III, Ratu engages in a hide-and-seek solitaire bonanza in the ruins of an ancient civilization.
...read more