https://games.yahoo.net/games/jewel-quest-heritage/reviews
jewel-quest-heritage
https://www.iwin.com/
2460371675478180353
Jewel Quest: Heritage
https://static.iwincdn.com/images/product/2460371675478180353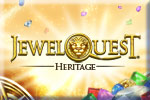 Play FREE, no time limit, EVER!

Continue the adventure with the Pack family in Jewel Quest Heritage! Solve over 170 jewel boards and one puzzling family mystery on a topsy-turvy quest through Europe's ancient hot spots in the newest edition of the Jewel Quest series, Jewel Quest Heritage.

Check out the official Jewel Quest 4 Heritage website for your exclusive FREE: calendar, wallpapers and ringtones!
...read more