https://games.yahoo.net/games/deal-or-no-deal/reviews
deal-or-no-deal
https://www.iwin.com/
7408005578396233716
Deal or No Deal
https://static.iwincdn.com/images/product/7408005578396233716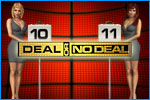 Exclusively on iWin!

Welcome to Deal or No Deal, the classic hit TV game show where you try to find $1,000,000 hidden among 26 briefcases. As you reveal what's hidden in each case, the banker will offer to buy the one you set aside for yourself. The only thing you need to answer is: Deal or No Deal?

Now with 6 brand new variations and puzzles that you have to solve before your are offered a deal from the Banker.
...read more