https://games.yahoo.net/games/bookworm-adventures-astounding-planet/reviews
bookworm-adventures-astounding-planet
https://www.iwin.com/
2460292086336505834
Bookworm Adventures: Astounding Planet
https://static.iwincdn.com/images/product/2460292086336505834
Bookworm Adventures: Astounding Planet
Try Free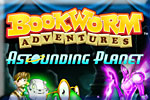 Help Lex the Bookworm save the world in the sci-fi finale to his vocabularious adventure in Bookworm Adventures Astounding Planet! Mutants and robots are running rampant, and it's up to Lex to set things right. But first you'll need to spell words and travel through time and space to survive all 10 chapters!

Bookworm Adventures: Astounding Planet Forum

Please Note: This is a single chapter from Bookworm Adventures 2. If you've purchased Bookworm Adventures 2, you already have this game.
...read more